Most parents feel a mix of emotions as they get ready to send their baby to daycare for the first time. Even though these feelings can be overwhelming, there are many things you can do to prepare yourself and your little one for this big step. Preparing your infant for daycare isn't always smooth sailing, but in this post, we will provide you with tips that can help to make this transition as smooth as possible for you and your child.
What parents need to do to prepare before the big day
Make sure you let your daycare center know about any of your child's unique needs and routines. It's important to discuss everything including important details, even some that may be personal.
When your chosen provider is made aware of these things, it will result in a smoother transition for your child, you, and the caregiver.
Here are some vital points to discuss with your new infant daycare center:
Feeding times

Nap times

Allergies

Snack schedules

Sensitivities
How do I transition my baby to daycare?
It's important to remember that when a baby begins at a new daycare center, your little one will experience schedule changes. Expect that your infant's usual playtime, nap time, and even the way to console your baby will be a little different from home. 
Changes in routine can be stressful for infants. Therefore, parents need to be prepared for their little ones to become fussier than usual at home. Daycare centers won't typically impose significant adjustments to your child's routine, especially if you communicate with them what it is. Try to follow the new weekday routine during weekends. Come Monday, your baby will be less fussy.
How long does it take for a baby to transition to daycare?
The answer will depend on your child's temperament. Some babies adjust quickly from day one, while others can take closer to four weeks. Expect tears during drop-offs until your baby gets accustomed to this new setting.
Preparing your baby for naps at daycare
It's important to share information about your child's unique traits and sleeping habits as much as possible, especially when going to a large childcare center. Even little details, like what kinds of things help your baby fall asleep, should be communicated to your new caregiver.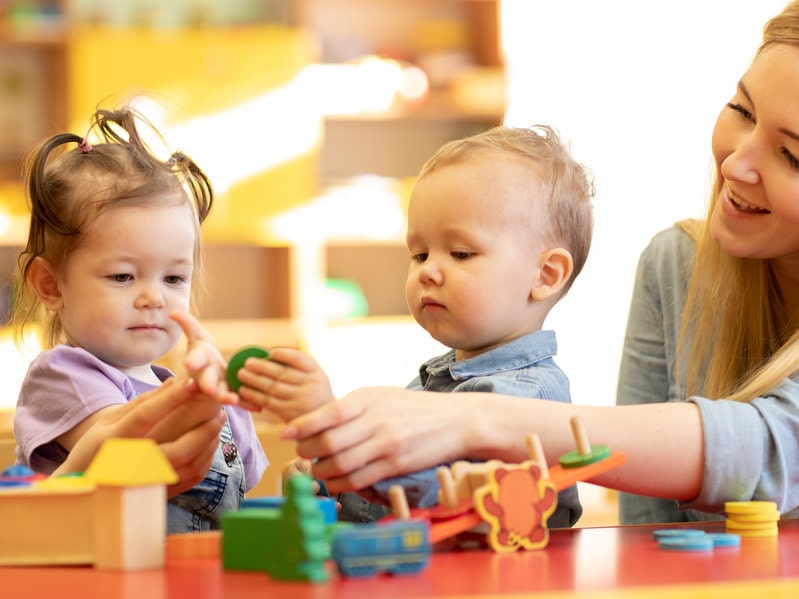 When your infant has attachment issues
When your baby finds it hard to be apart from you, we suggest spending periods of time away from your little one. Do this practice starting a few weeks before your baby's first day at the center. Start with short periods of separation, and then stretch your absences into longer periods. This will help make your child's transition smoother
What to bring on the first day
When you're preparing your infant for the first day of daycare, the recommendation is to bring two sets of bags.
Inside one bag, pack the items that need to come home with your baby at the end of the day. These include personal items, such as your baby's stuffed toy or lovey, blankets, pacifiers, and teethers.
The second bag should include standard infant supplies, like milk or formula, bottles, diapers, baby wipes, medicines, bibs, extra clothes, burp rags, and other things needed for your baby's daily use.
Remember to include your paperwork inside your bag as well. We recommend bringing all of your baby's records and emergency numbers. Make sure the center knows if any friends or relatives will be picking up your baby at the end of the day. If so ensure they have pictures of these individuals.
What to do if your baby is feeling sick at pick-up time
At a large center, it's hard to anticipate when children will get sick. Remember that some children will be contagious during cold and flu seasons. If your baby is feeling under the weather at pick-up time, be sure to obtain all of the necessary information from the center regarding how your child was feeling during the day.
Make sure everything your baby needs is at the center
Keep in mind that caregivers will only check for missing items when getting your child ready to go home. They are not responsible for providing supplies at the center, which is why it's essential to make sure you have everything your baby needs with you before you head to daycare. We recommend you leaving two weeks' worth of supplies at the center.
How do I transition my baby when it's time to come home?
Your child may be tired or cranky after being away from you for several hours. To help transition your baby back to your home environment, take your time getting your little one settled in his or her car seat before you leave the center. The more time you put into preparing your infant to transition to and from daycare, the easier the change of setting will be, especially when it comes to getting your little one to sleep once you're home.
Children Central helps make the new transition to daycare smooth for infants and parents. Call us today for more information!