We all understand the importance of making our kids eat nutritious food. However, letting a four year old finish a plate with two  servings of fruits and one serving of vegetables is a lot easier said than done. And this challenge is mostly because of one common reason – they don't like how healthy foods taste. So how do we get our kids to eat better?
The importance of good nutrition in kids cannot be overemphasized. And parents shouldn't just give up and let their children devour loads and loads of unhealthy foods because they will only eat chicken nuggets and hot dogs. If you share the same dilemma, here are some pieces of advice you might need to get your kids to eat better. 
Introduce new foods slowly
One of the reasons why it's difficult to feed children healthier food is that they have already  gotten used to the flavor of the food they have always been served. So, if you're trying to get your little one to eat fruits and vegetables, be sure to slowly introduce them instead of forcing it. 
One surefire way to get them excited about trying something new to the palate is to level up the fun factor. Inject a little creativity and have fun experimenting with the shapes and colors. Be creative with the arrangements, too.
Offer choices
If there's one thing young kids hate, it's being told what to do. The early years are when they begin to establish independence and test their limits. And when they feel like they're being controlled, chances are, they'll end up doing otherwise. So even at the dining table, make sure your child gets to choose what to eat. This doesn't mean choosing between chips and apple slices. Of course, the options should consist of healthy items. 
For example, you can let them choose between sweet potato and apple for snacks.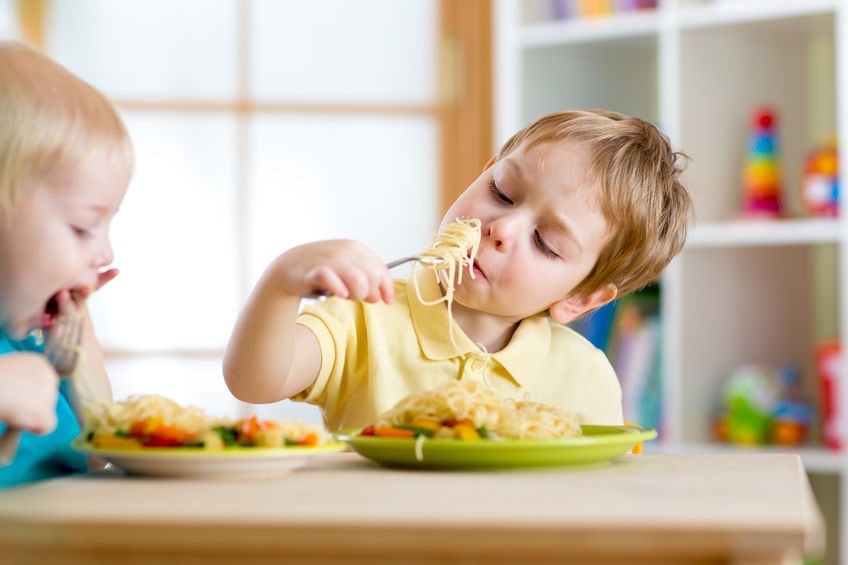 Let them take control of their plates
Letting your little one make their own plate is another excellent way to exercise their independence and get them to eat better at the same time. Instead of filling their plates with food, let them do it. As long as well-balanced food components are served, you're still making sure they're getting the nutrients they need. 
Encourage smart snacking
It's tempting to let a child devour a bag of chips when they're agitated. But this isn't the best way to help them develop healthy eating habits. Encourage your child to snack smarter by keeping snack sizes in small portions. Give them healthy snacks, too.
Avoid giving them snacks when it's close to dinnertime or they will lose their appetite. 
Get them involved in meal prep and cooking
Children tend to be more interested in eating what they've created. So, why not get your little one involved in meal prep and cooking? Take them with you when you do grocery shopping and let them pick the fruits and vegetables they find interesting to eat. Then, encourage their participation in the meal preparation process. Let them perform simple tasks such as tossing the salad, stirring the mixture in the bowl, putting the toppings on a dish, and so on. 
Limit the junk
Parents have complete control of the food that comes into the house. Therefore, if you want to make sure your little one doesn't get addicted to junk and other unhealthy foods, limit the junk food around the kitchen. The less junk food that is readily available, the higher the likelihood for your kids to eat more veggies and fruits. Stock up more of the healthy stuff in the fridge such as high-fiber foods, dairy products and whole grains. 
Be a role model
There's no better way to get kids to eat better than by setting the right example of healthy eating. Be a role model and exhibit the right eating behaviors. Incorporate more vegetables and fruits during mealtime and cut back on the unhealthy ones, and your child is more likely to follow suit. 
Now that you have all these tips and tricks on how to get kids to eat better, it's time to put them to good use. These will help you ensure your child gets all the nutrition they need to grow up healthy and happy.
For more helpful parenting tips or if you're looking for the best childcare center for your child, please visit Children Central.