As a parent, you know how important it is to provide your children with the best possible environment for learning and growing. You may be surprised to learn that music can positively affect your child's development. Music has been proven to have effects on child development that go far beyond simply entertaining. Babies are soothed by melodies from the early stages of life and will display increased attentiveness when exposed to music. As a child grows up, further exposure to music can help stimulate their cognitive abilities. These include language skills, reading comprehension and organization – all while having a tremendous amount of fun! Furthermore, studying music has also been linked to improved academic performance in other subjects. 
In today's world, it's increasingly important for children to be exposed to music to remain competitive. Let's take a look at some of the ways that music can influence child development. 
Enhanced motor skills
Music has been proven to help children develop better motor skills, both gross and fine. Learning how to play instruments can encourage hand-eye coordination and strengthen finger muscles. Studies have indicated that children exposed to music tend to be more organized in their movements and have improved timing, balance and coordination.
From playing instruments like the piano or guitar to having a regular drum circle session with family members, there are plenty of ways you can use music to introduce your child to the world of movement while having fun! Motor skill development among children is an important milestone, and it doesn't hurt to give it a helping hand with the effects of music!
Improved language skills
Exposing children to music can help develop their ability to understand and grasp spoken language more quickly. Music can also help strengthen the understanding of word meaning, pronunciation, and communication between individuals. It can also help with improved reading comprehension skills, allowing children to better absorb information from books and articles.
Enhanced emotional intelligence
Music has a powerful effect on emotions. This is why it can be used to great effects in developing a child's emotional intelligence. Studies have found that musical exposure helps children learn how to express themselves better. It taps into different feelings or experiences through sound. This skill is invaluable throughout life – whether your child wants to become an artist, actor or simply wants to equip themselves with the tools they need to build successful relationships.
Improved academic performance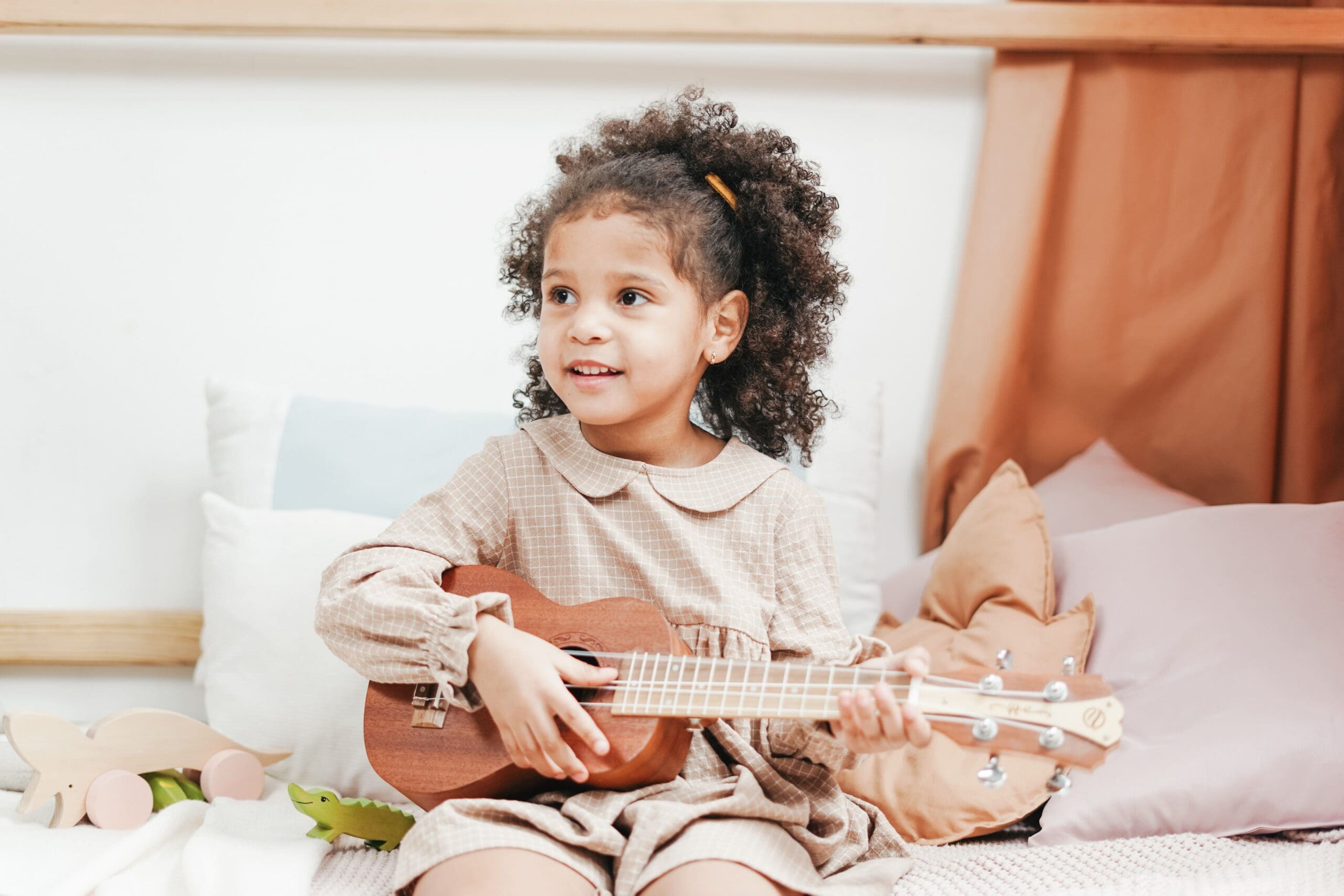 Music has a profound effect on children. Recent studies have demonstrated that exposure to music can bring about tremendous improvements in many areas of academic performance. They have revealed that children can grasp material faster and more quickly when they receive instruction through melody, rhythm and song. 
It has also been proven that music helps improve verbal memory skills, enhances problem-solving abilities, and encourages creative thinking. When students listen to classically composed pieces of music while studying for assessments or completing homework, their levels of concentration increase significantly.
Enhanced creativity
The effects of musical exposure can also be seen in creativity. Music has been linked to improved imagination, a better understanding of abstract concepts, and broader levels of comprehension. Music encourages children to explore different avenues when expressing themselves – whether it's through writing stories or drawing pictures. Not only does music provide an enjoyable activity that keeps kids engaged. It can also help them become more organized and improve their academic performance.
Improved social skills
Did you know that music can also help foster better social skills in children? It encourages communication and cooperation. When children learn musical instruments or participate in school performances together, it helps them work as a team – finding common ground through shared interests and learning experiences. It has been found that music brings people of different ages, backgrounds and beliefs together, building trust and respect between individuals.
Boosted self-esteem
Regular exposure to music can also positively affect your child's self-esteem. Learning how to play an instrument provides a sense of accomplishment when pieces are mastered or when performing in front of an audience for the first time. Through this process, your child will gradually become more confident and develop a positive attitude towards themselves. This can have long-term effects on their mental health and well-being as they grow up.
Improved physical coordination
As you may know, music and movement often go hand in hand. When children are exposed to rhythm and tempo, it encourages them to move their bodies differently – from swaying or tapping along with the beat to dancing in time with the song. Physical coordination improves when kids learn how to keep up with rhythm and timing. This helps with activities like sports, running, playing instruments or even typing on a keyboard!
Enhanced concentration levels
It's no secret that music can calm our minds and allow us to focus on the task at hand. Listening to music can help children block out distractions and concentrate for longer, allowing them to better understand and retain information. This is especially beneficial during study sessions, where students need to be able to focus to fully comprehend material.
From enhancing language skills and improving memory recall to fostering social-emotional learning opportunities—music offers countless benefits to your child's development! Incorporating more musical activities into your daily life is an easy way for parents to give their kids a head start on success! So put on some tunes and let the learning begin!
At Children Central, we aim to provide a smart start for your early learner. We always keep in mind your child's well being and take pride in our highly-qualified teachers to keep your children happy and constantly learning new things. Visit us to learn more!