We can all remember the magical feeling that comes with hearing stories during childhood. Tales about adventures to far away places, whimsical stories of knights and princesses, and those of dragons and castles. Kids often love hearing stories no matter how many times we read them to them.
Parents typically read stories to their children to lull them to sleep. But reading with children actually offers more benefits than just a soothing bedtime routine. For example, reading helps young kids become more familiar with aspects of language,  new words, and sounds. Reading stories also stimulates curiosity and imagination. When young children are read to, It helps to enrich their cognitive functioning, communication, and social skills. Even if we each have different methods and styles when it comes to reading with our kids, there are important things parents should keep in mind to maximize the benefits of reading as it relates to your child's development.
Pay attention to your child's cues
One of the most important things to bear in mind when reading to kids is that you should tune in to your child. Pay close attention to young children's cues and get a sense whether they are engaged in the story. Try to observe if your child is enjoying the stories you're reading, if he or she understands the vocabulary, if your child is focusing primarily on the flow of the story or the pictures.
Help young children become engaged in the activity by coaching instead of instructing them. For example, instead of  telling your child about the characters' actions,  try asking your child stimulating questions. You may ask, "Where are they going?" or, "Why are they going to the forest?"
It's important to get a sense of whether your child is engaged in a particular story.  If he or she seems disengaged, consider offering to read a different book or story.
Ask questions
There are times when young children may feel sleepy or bored in the middle of the reading activity because we fail to engage them, especially since we are doing all of the reading. You can make the activity more fun and informative by asking your child  questions as you navigate the story together. Let your child try to make predictions about upcoming events in the story, ask the "whys", the "whats" and so on.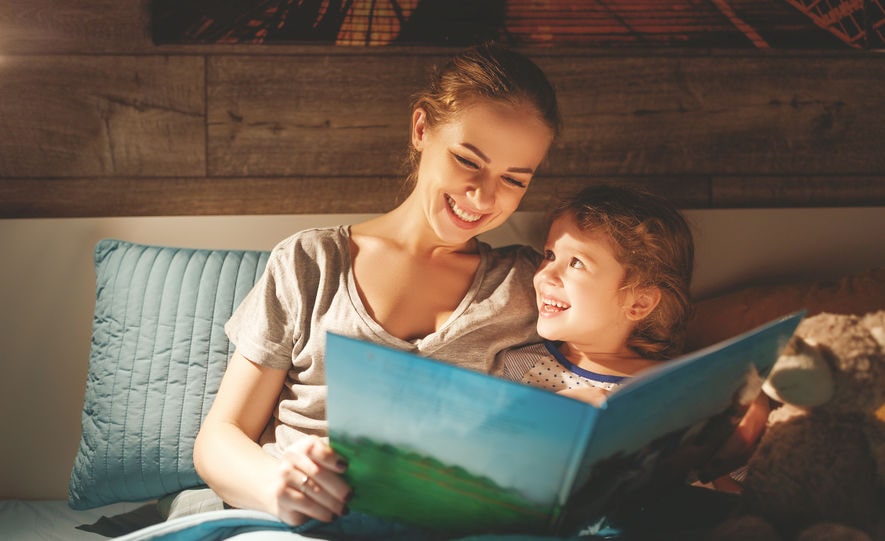 Not only will your questions keep your little one engaged and interested, But  it can also be an excellent way to stimulate a young child's thinking and imagination. Additionally, this process can also help strengthen your bond with your child  as it offers an opportunity for genuine connection and involvement.  
Try to link the events within the story
The way you build logical links between the different events of a story can further boost a child's cognitive skills. The events in storybooks usually unfold quickly, and young kids may not easily understand their sequence or the logic behind the event. 
For instance, instead of saying, "The wolf was able to get inside the house because the mother wasn't home", you can break it down and come up with a more logical way of communicating this part of the story. So instead, you can say something like. "The wolf saw the mother leave the house to go get some food. He thought it would be a good time to trick the baby goats in the house so that he could eat a delicious lunch!"
Include relevant details
While most parents include details to make the reading activity more interesting and engaging, details also play an important role in improving a child's learning. Details also make the story easier for young children to understand. When adding relevant details for example, it's not enough to describe a character by simply naming the color of the clothes he or she is wearing. Try to be a bit more descriptive by saying something that will add more value to the story. For instance, you may say something like, "The treacherous brown wolf was waiting for a chance to sneak into that house". Here, the behavior of the wolf is being described with the adjective "treacherous". This makes it easier for kids to understand the reason behind the wolf's actions. 
Reading with your kids can offer numerous benefits when it comes to improving their developing language and literacy skills, as well as their social and cognitive skills. Remember this approach  when reading with your child. You'll be pleased with the many benefits it brings!  
For more parenting tips, or if you're looking for the best preschool for your child, please visit Children Central.