Your child is refusing to get dressed, doesn't want to get out of bed, or refuses to brush his or her teeth. These types of scenarios are all too familiar for many parents. In numerous homes, finding a workable school morning routine might be one of the most challenging aspects of parenting. On many days, you may find yourself scrambling to get your kids off to school on time. It's a race against the clock with no end in sight! 
The morning routine can set the tone for the day. It's easy to get frustrated when you're rushing and trying to keep things as organized as possible as you get your child ready for school and get yourself ready for work. However, if you establish a morning routine with a few key things in mind, it will be much easier to start your day off in an organized manner and on a stress-free note.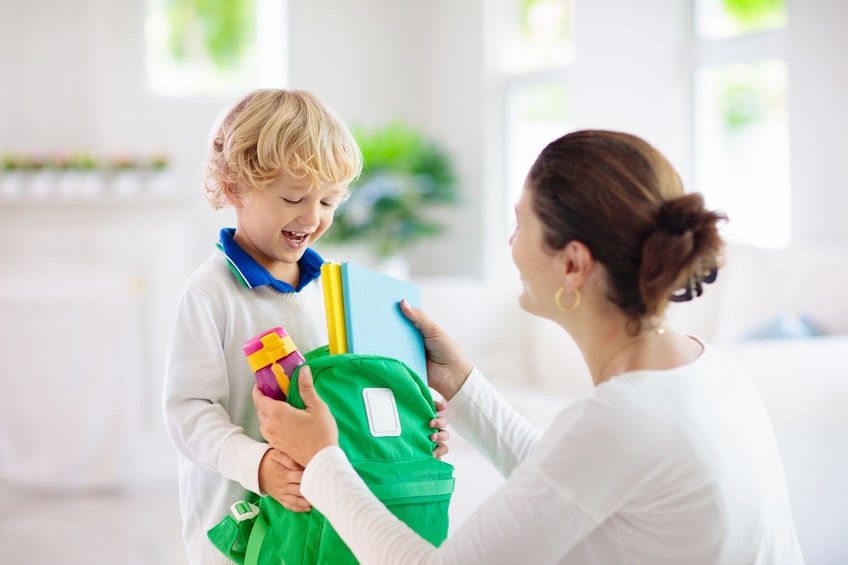 Make sure everyone gets enough sleep
Having a peaceful, stress-free morning routine begins with making sure that everybody gets adequate sleep each night. Sleep is so important when it comes to our mental and physical well-being, especially when it comes to growing kids. Children need an average of ten hours of sleep each night in order to nurture healthy growth and development. Adequate sleep is also vital when it comes to our children's behavior and attitudes. When kids get enough sleep, it becomes a lot easier for them to get out of bed each morning, thus making them more likely to cooperate.
It's also important for parents to go to bed at a reasonable hour. Getting enough quality rest can help your mood and lead to a happier disposition the next morning. Remember that a well-rested parent is a happy parent. 
Prepare the night before
Another secret to better mornings at home is getting everything ready the night before. Mornings can be a chaotic time of the day. Preparing some items before bedtime is one way to cut down on morning stress, which will allow you more free time for other important tasks. Determine which tasks you can accomplish the night before. 
For example, perhaps you can pack your child's school supplies in his or her backpack the night before. Consider taking out your child's outfit and shoes for the next day. Or better yet, work with your child to plan outfits for the entire week, so he or she can easily grab each day's outfit that morning. 
Wake up earlier than your kids
Do you wake up at the same time as your children? Maybe it's time to make a little adjustment and wake up earlier than usual. 
Try to get up 10-15 minutes earlier than your little one, so you have more time to get a few things done uninterrupted before your child wakes up. For example, get up early so you can take a shower and prep breakfast. Once you're done with these things, you can proceed to wake up your child and assist him or her with getting ready for school. 
Help kids get accustomed to waking up to an alarm clock
Are you in the habit of calling out to your child to wake him or her up each morning? How many times do you find yourself coming back to your sleeping child because he or she just won't get out of bed? If this is the usual scenario in your home, try to break your family out of this habit by having your child start to use an alarm clock. Help your child learn how to wake up on time on his or her own, and without hitting the snooze button. Not only is this a good skill with which to equip your child early on, but it's also an excellent way to help mornings go more smoothly and a little less stressful. 
Start the day on the right foot
Instead of waking up feeling grumpy and cranky, you can choose to make school mornings more cheerful. Try to start off your day by waking up in a good mood. Make sure your day is off to a good start for you and your child by beginning the day with some sweet parent-child moments. Give your child a hug, tell a joke, say "I love you", or play some fun music to get you hyped up for the day. 
Everyone can benefit from a less stressful morning routine with their kids. Establishing a more peaceful morning routine for your family doesn't have to be difficult or time-consuming. You can start with just a few small changes. Follow these tips to help you achieve a more peaceful and manageable school morning routine for you and your child. 
For more parenting tips, or if you're looking for quality early childhood education for your little one, please feel free to visit Children Central.