Yardley & Langhorne Summer Camp for Kids
The Children Central Cub Camp will once again be offering a junior summer camp program for children who are four years old by April 30, 2021.
Cub Camp will start Monday, June 21, 2021 and end Friday, August 27, 2021. We will celebrate the end of camp with a party for the children on August 27th! Please see the 2021 calendar below. (Activities are subject to change).
We look forward to having the annual Magic Show and Ice Cream Truck Day this summer. Our Cub Campers will continue to participate in weekly water play activities on our large playground. Due to Covid, we will have to improvise and adapt our program again this summer. As we did last year, we will watch popular movies to stream on the big screen here at Children Central, instead of going to the movie theater. We also will do remote virtual sessions for the magician, music and other live shows. We plan to bring in lunch from a popular children's restaurant, instead of taking the children. Most importantly, we will continue to provide many fun, interactive activities for our campers to do throughout the entire summer!
Summer Camp Activities
Please see the 2021 summer activity calendar below. (Activities are subject to change). All of our families have been provided with the full calendar of fun events for the 2021 summer Cub Camp program.
In the summer, we balance school and fun. Parents love that our Cub Camp is run by our Pre-Kindergarten teachers who make the summer both fun and educational. Exciting activities are planned around the weekly theme. In addition, we continue to incorporate learning and review, so that the children do not forget everything they have learned in the past school year!
We are planning many new ideas and events to introduce to our campers!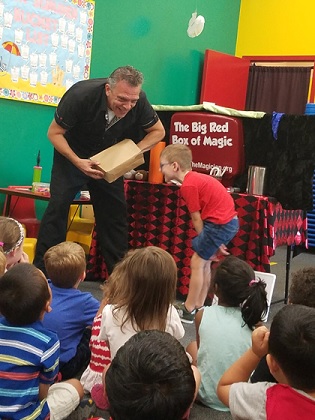 For those families whose children will be in our Pre-K program in September, spending the summer in the Pre-K classroom and getting to know the teachers, should help your child have a very smooth transition for the official start of Pre-Kindergarten.
The weekly/monthly tuition will remain the same. There is a one-time activities fee of $125 to cover the cost of all summer events, activity fees and one Children Central Camp T-shirt. (There will be additional shirts available for purchase).
The $125 activity fee is non-refundable, so that we can plan the summer activities in advance and hold your child's space.
Please note that enrollment is on a first-come, first-served basis, as there is usually a great deal of interest in our summer program for kids.
We encourage you to register your child as soon as possible to guarantee their spot in the CCCC program. 
Space is limited, so now is the time to start thinking about summer placement!
Please see the 2021 summer activity calendar below to learn about some of the fun activities we have planned for our campers. (Activities are subject to change).