Children Central is glad to introduce Miss Edivia as the Spanish teacher for our Preschool and Pre-K classes. Spanish is taught as part of the curriculum on Tuesday mornings and is included in the tuition.
Why Spanish Class?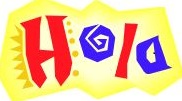 Experts in early childhood education recommend giving children the opportunity to learn a second language for many reasons, including an increase in problem solving capabilities and cognitive flexibility.
At Children Central, we're pleased to have such a caring educator as Miss Edivia offer Spanish lessons for kids in our Preschool and Pre-K classes.
Miss Edivia – Spanish Teacher
Hi. My name is Miss Edivia and I have added 'Spanish Teacher' to my accomplishments at Children Central. I have been a part of the Children Central family since August, 2014. I previously was the After-School teacher. I currently enjoy being a 'Floater Teacher' as I am glad to assist in whichever classroom I may be needed. You may find me helping out in any of the classrooms from Infant to Pre-K at other times of the day when I am not teaching Spanish.
Spanish lessons for kids
I am so happy to be teaching Spanish to the Preschool and Pre-K classes! I am fluent in both Spanish and English. Knowing two languages is very rewarding. It enables me to have the privilege of communicating with so many more people.
I studied and lived in Puerto Rico, where I was able to learn how to speak and write Spanish. I attended school, which gave me the chance to learn a second language.
This opportunity will help me to empathize with the children, as I know what it is like to learn a new language and how fun and rewarding it can be!
I look forward to teaching children Spanish in a very fun and entertaining way. I use puppets, songs, games, and dancing to make the learning interactive, and very enjoyable for your children.
I have been in the education field for approximately 20 years, which includes my being a teacher to the physically, mentally and emotionally challenged.
I truly have a passion for teaching and caring for children. I earned a Child Development Associates credential (CDA) in 2010 at Manor College.
Helping and watching children learn and grow to their fullest potential gives me great satisfaction and pride in my work.