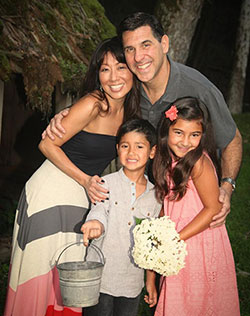 We are a family run school managed by the owners Kevin and Sharon Port. After years of research and evaluating numerous child care / preschools, we chose to acquire Children Central.
We knew, even if we did not own the school, this would be the preschool we would select as parents ourselves, to help educate and care for our two children. Our daughter started in the Twaddler classroom (ages 2-3) and our son started in the infant room at eight weeks of age.
Children Central is NOT a franchise, nor are we corporate owned. We NEVER have to defer your questions or concerns to 'the corporate office' or 'check with franchise policy.'
We strive on a daily basis to make decisions based on common sense, empathy (as we are parents ourselves), and always keeping in mind your child's well being. Moms and dads choose Children Central because of our spacious and bright classrooms, ultra safe and clean environment and because they trust our teachers to keep their children happy and constantly learning new things. We sincerely love getting to know each and every parent and child who comes to our school.
Our teaching staff has a very high percentage of degrees in early childhood education.  They participate in 24 hours of professional development annually per Keystone STARS requirements and are certified in CPR, Pediatric First Aid and Fire Training.
When making your children's day care, infant, toddler, preschool, pre-kindergarten, or After School program decision, we urge you to make a visit to Children Central in Langhorne Pennsylvania. We also encourage you to visit at least two other schools to best understand the value of our school. This will enable you to see for yourself how Children Central compares quite favorably to the other early learning programs in the Langhorne/Yardley area, and surrounding communities.
We truly look forward to meeting you soon!
Sincerely yours,
Kevin & Sharon Port