Here's what's being said about Children Central: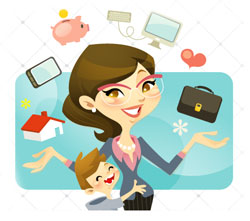 Read Lower Bucks County Mom's Review
---
May 2014
We appreciate the care that our child has received while in your care. It is every little thing that you do that has made a difference in our child's life. We have always been impressed by the extra care and love you put into running your academy and it has given us a much appreciated peace of mind knowing this while we are away at work each day. We truly appreciate the calm, loving way you have worked with Dylani, the creativity in all the lessons, and the very positive and safe environment that you provide to all the kids at Children Central. It's this care, we believe, is having a lasting and profound impact on how Dylani's growing and developing. It has been a great pleasure for us and Dylani to be educated at Children Central.
– Deangelo and Nakia D.
---
April 2014
Wonderful loving environment for children to develop and learn! Both of my children have gone to Children's Central. Words can't simply express my absolute gratitude for the way they have treated my children. Children Central is a nurturing and loving environment. It is more like my kids are being watched by family then by a child care center. These young ages for children are critical to their physical and emotional growth, which is why the best child care is so important. Children's Central has played an important role in children's life and development. My oldest child graduated from Kindergarten and was prepared for the 1st grade. During her time there she learned not only learned the basics in numbers, letter and reading, but she also learned some Spanish. The school has been very accommodating to anything that we have needed or asked. Again, I can't say it enough that Children's Central is the best in early child care! The staff is simply great. Kevin and Sharon have always been helpful in taking care of our needs. The day care/school facilities are clean and safe for children. The outside playground is new and my kids love to play in it. The inside village play area is also a wonderful selling feature of the school. The school also has a once a month date night on Friday night's (we always take advantage of this) If you are looking for a loving, nurturing, educational, friendly, clean and safe place for your kids to learn then Children Central is the place for you. If I could vote for it, it would be the best in Philly!
– Mike F.
---
March 2014
My son attended Children Central for over a year and we had to move to another state on a job transfer. We had a very nice experience here. My son likes the school and loves his teachers (Ms. Julia/Ms. Liz in Pre-K room) very much. He had a very good time there. I would recommend Children Central to any family with children.
– Soumya B.
---
February 2014
I had searched long and hard to find a daycare for my son (15 months at the time). I finally came across Children Central. I called and spoke with Kevin who was extremely friendly on the phone and told me to stop by at any time for a tour. Within a few hours I stopped in at Children Central, met with Kevin and got a tour of the entire school. I LOVED EVERYTHING about this place. It was exactly what I was looking for! I sat down with Kevin as we discussed everything else and knew in my heart this was the place for my son. He has now been at Children Central for almost a year and I am just as happy with them as I was when I made the decision to sign my son up at Children Central. I would recommend Children Central to any family with children! I am very impressed with them. 🙂
– Denise M.
---
January 2014
I am so thankful that I found children central. My daughter has been going there since she was 3 years old after leaving our prior child care provider that she was in since she was 6 weeks old. What a difference at children central I will never go anywhere else. The owners and teachers are all wonderful, kind, caring people. My daughter loves everyone. The curriculum is top notch she learns so much every day. I also love that her teachers all have a degree in education and they know exactly what children need to succeed in school. I also feel safe knowing my daughter will be safely in the building with no chance of anyone entering the building who does not have a security pin number to get in. I also love the fact that they have a chef on staff that cooks nutritious hot meals and snacks and drinks are provided. My daughter loves his food. I will try to make the same thing sometimes but she always tells me it's not as good as Mr. Dave's food. Thanks for giving my daughter the best start in her education!
– Heather F.
---
January 2014
My daughter has attended Children Central for well over a year now. The school is clean, bright and cheerful! There is always someone from administration to greet me each day. My daughter loves the healthy lunches and snacks that are served each day by Mr. Dave, the chef. The teachers are warm and caring, full of wonderful creative learning experiences. My daughter loves to come to school each day!
– Melissa L.
---
January 2014
My daughter attends Children Central for 2 years now & we have had a great experience! I had attended a few open houses at Children Central but I was not sure if this was the best place for my daughter. Then, I met & spoke with Kevin who was friendly and informative and he gave me a tour of the school. I felt confident that this would be a great place for our daughter and I enroll her. My older daughter attended another daycare center nearby & she did not have such a great experience. I really feel the teachers give a lot more attention to the kids & they are always available if we have any questions or issues with our kids! My daughter has really been learning a lot! She is already learning how to read! She will be starting Kindergarten next year & I really feel she's being prepared well for her next step in her education! I would recommend Children Central to any family with children!
– Monika A.
---
September 2013
I am a grandmother who all of a sudden one day received a call from a social worker asking if I would care for my grandson for a while. I am employed and how could I say no. I said yes and picked him up and enjoyed him for 2 months. In the meantime, I did not want to take a leave of absence form work so I started looking for where could Luke go while I was working. I saw a sign around my neighborhood displaying Children Central and made a phone call. I spoke with Sharon (owner) who gave me an idea of what I could expect at Children Central. I met with her and her husband Kevin and it was affirmative that LUKE be enrolled in Adventure Land Camp for the summer. This was very positive for Luke and me, as I could drop him off a half hour before work and pick him up one half hour after I was done. Luke had a great learning experience, made many new friends, and experienced new adventures on the field trips he otherwise would not have done. The staff is knowledgeable, experienced, affectionate, caring and concerned for the welfare of the children. Kevin is an owner with Sharon and their children are there. I felt this was a safe and warm environment for Luke and that I could go to work and concentrate on my job. This was a big responsibility for me to undertake 24/7. Ms. Julie and Ms. Ashley were his teachers. Ms. Julie is bubbly, caring and very attentive. She has had a lot of experience with children. Ms. Ashley and the other caretakers were always very friendly and had a smile. Upon arriving and leaving all the other children and parents always greeted each other with a smile. Children Central has a very warm and comforting environment. I can't thank them enough for helping me in a bind to give my grandson a very positive experience. In the meantime I have a coworker who has had her daughter there for quite some time and is very pleased. What a small world we truly live in! Thank you to the owners and staff for being a positive influence.
– Carolyn E.
---
June 2013
I wanted to take a few minutes to let the parents out there know how wonderful Children Central is. If you are looking for a daycare you should definitely take the time to look at Children Central. You'll be happy you did and I guarantee you won't have to look any further. I had switched daycares awhile back because of some issues I was having where my daughter was enrolled. I called around to a few places and when Kevin Port (one of the owners at Children Central) called me back to set up a tour I knew instantly this was going to be the place for my daughter. Without me even telling him what the other daycare had lacked–he said that one of the most important things that his daycare stresses is the communication with the parents. This was really important to me and a main reason for wanting to switch daycares. When I went in to meet with Kevin I felt right at home. The teachers all smiled and said hello when they saw me. I was blown away by the facility. It is clean, safe, bright and cheerful! We walked around and I remember having a huge smile on my face when I saw the playground. I knew my daughter would love it. Before I had even mentioned that I was interested in enrolling my daughter, Kevin invited my family and me to their Spring Fling so I could meet other parents and talk to them about their experience. This spoke volumes to me! We did go to that spring fling and it only made my husband and me more confident in our decision to enroll our daughter at children central. It was such a nice event! It's been well over a year now and I am still raving about how wonderful the daycare is. The teachers are all so nice and always go out of their way to say hello. I let everyone know how happy I am with Children Central. I now see that the issues I had at the previous daycare were a blessing in disguise. This is where she belongs. She is learning so much more then I could have ever imagined. When she wasn't speaking a lot yet as a baby they taught the class to use some sigh language and she was actually doing this to communicate with me at home on a daily basis. Now she is 2 1/2 and she is speaking in full sentences. Family and friends are still floored when they hear how well she is speaking. I may be biased and think she is just a smart girl, but I truly think her environment has helped her progress so much. This part may sound odd–but it's true. My daughter is clean when I pick her up. If she has a cold–her nose gets wiped. Previous experience at another daycare would actually upset me when I picked her up and my first thought was that I wanted to get her right in the bath when we got home. It made me feel like she wasn't being cared for or paid attention to. And I am happy to say that this has never been an issue at Children Central. My daughter looks just the same when I pick her up as she does when I drop her off. Actually, sometimes her hair looks even cuter because her teachers will give her a new look with braids or ponytails:-) Enrolling my daughter into Children Central is the absolute best decision I have made as a parent so far. I know when I am at work she is being taken care of. Of course I think about her during the day–but I honestly am not worried about her. I know she is in good hands and she is having a blast! Kevin and Sharon Port run a wonderful daycare and the teachers are a huge part of their success. They are all gems. I really feel like Children Central is an extension of my family. It's a really great facility 🙂
– Lisa J.
---
May 2013
Our daughter attended Children Central from about 5 months old to about 15 months old. We had a fantastic experience. Owners Kevin and Sharon were very attentive, and knew every student in the building, along with their parents. The infant and toddler room teachers were outstanding, and our daughter always came home with a smile. She learned a great deal, completed many many art projects, and it was apparent she loved going to school. My wife and I are thankful for the time we spent with Children Central, and would still be there if we hadn't relocated. We compared about 5 different daycare facilities in the area, and Children Central stood out to us. In all respects, our expectations were exceeded. We appreciated how the curriculum stresses learning and development, rather than straight-up child-care. Do your own research, but in our opinion, you won't find a better school experience for your infant or toddler. Thanks again Kevin, Sharon, Miss Amy, Miss Jolie, and all of Stella's fantastic teachers and classmates who gave her such a great experience. You will all be missed! We hope that many more children will pass through the halls of Children Central with the same laughter and happiness that Stella did.
– Michael K.