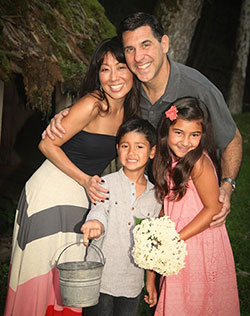 'Mr. Kevin' and 'Miss Sharon' own and manage Children Central as a husband and wife team on a full-time basis. They take great pride in making sure their preschool is run according to the highest standards, which is confirmed by the Keystone STARS organization as a STAR 4 rated program, the highest rating a preschool can earn in PA. They have two children, Mathew and Carly, who both attended until their graduation day. Their love for school and reading started at Children Central and continues to this day.
Kevin was an International Sales and Marketing professional in the consumer products field for over 20 years, which included approximately 7 years in Japan. His areas of responsibility included preschool and language learning products, such as Mattel, Fisher-Price and Franklin. Kevin earned his undergraduate degree from UCLA in Communications and an MBA in Marketing from New York University. His biggest influence for his interest in education comes from his parents. His mother was a Kindergarten and first grade teacher for over 25 years and his father started out as a middle school teacher and then spent over 30 years selling The World Book Encyclopedia.
Sharon's experience is in corporate HR for over 10 years, and running her own real estate business. She earned her BS degree in Business Administration from the University of California at Riverside, and MA in Organizational Behavior. She worked for corporations such as Hilton Hotels, Duty Free Shops, Colony Advisors, and Herbalife amongst others before switching careers to her true passion in real estate. After working a few years for Prudential CA. Realty, she opened her own firm, South Bay Cities Real Estate Consultants, with a partner. Little did she know at that time that her very most important job, motherhood, was just around the corner! After a couple of years of being a stay at home mom to their first born, she and Kevin decided to fulfill their long awaited dream of owning a child care center together.
Kevin and Sharon combine their interest in education and business skills to manage the school daily. Children Central is truly a family run business with the owners' constant hands-on approach to every detail of the school. Being parents to young children themselves, they know exactly what other parents are going through and thus strive on a daily basis to strike the perfect balance between running a well-organized school, as well as one that accommodates the greatest needs of the parents.
Kevin and Sharon manage the school so that it is able to provide the best in: 1) Education by allowing the children to learn through structured play; 2) Socialization that includes assuring that each child reaches his/her developmental goals, as well as providing the opportunity to engage and interact with children of varied cultural and racial backgrounds; 3) Nutrition by offering a healthy lunch and snacks made by their chef on staff; 4) Cleanliness provided by a professional cleaning company that comes five nights per week to make sure the school is kept very clean and smells good when we open each morning; 5) Security so that parents have a peace of mind about their child's well-being during the day, so they can attend to the needs of their own busy work day.
Most importantly, Kevin and Sharon believe in simply 'letting a kid be a kid' by creating a fun and safe place to play, learn, sing, dance and laugh their way through first singing their ABCs to learning how to read a book. Children Central is the ideal place for parents who are looking for a loving, nurturing as well as academic place for their child.
Once you visit Children Central, they are certain you will agree!